Here how to use JPay send money to inmates via online payment system on jpay.com. This method specially for you who have credit cards such as American Express credit card, Airlines credit card, student credit cards, or any best credit card services in the United States with VISA/Mastercard type.
Besides via credit card, you can also fill the inmate account balance called "JPay Credits" so that they can spend their existing funds to buy music, send emails, stamps, etc. in the kiosk.
Note: To check the availability and pricing in each state of America, please check first here and make sure select the correct inmate search. Also you need stay login on JPay.
jpay.com send money credit card processing
1. Login to www.jpay.com then select on the Send Money menu

2. Please select one of these steps:
You can select a Transfer Category from list, and select Continue.
OR
If there is no Transfer Category, just  select Continue.
3. Select your card type as a payment method, an example: VISA. Also fill the correct card validation code and the amount you'll send. Then select Continue.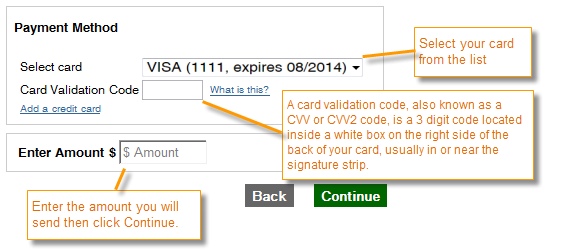 4. Make sure all information in the Payment Verification box filled correctly, last select on the Submit button.
Each payment details you send, can be seen in the menu 'Transfer History'.
Note: Above steps for one-time-payment process, if you like automatic payments basis for example every week, two weeks, or monthly, you need to activate the JPay recurring payments.