Previously we've talked about JPay credit card services for money transfer to inmates. Now, you can send money cash from a nearest MoneyGram location, so your transaction more quick and easy. There are 40,000 MoneyGram agents in the United States from Walmart, 7-11, and CVS Pharmacy.
MoneyGram is the official partner of JPay inc, so there must be a list of JPay receive codes at any MoneyGram agent nationwide, so the cash will be sent to the appropriate party.
How to Find MoneyGram Location then Send Money:
1. Search the nearest location here
2. Go to there (nearest location) and don't forget to bring your original identity card such as ID card or driver's license.
3. Fill out the 'JPay Express Payment Form' like this: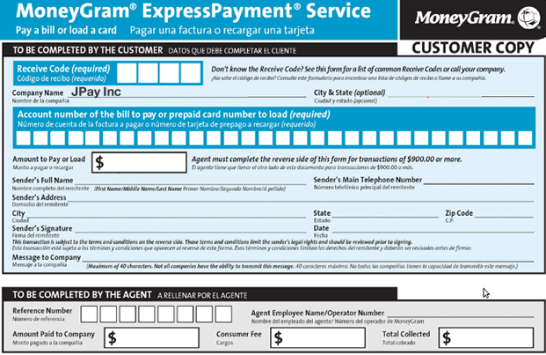 Fill the correct JPay Receive Code (see here), Inmate's Correctional ID number and last name with no spaces. Then give the filled form to the MoneyGram clerk with the cash money that will you send also the transfer fee.
4. Save the payment reference number from agent, you'll need it in the future.
5. The money transfer process about 10 minutes, and the funds will be received by inmate in 24 hours.