One of the best services of JPay is that you are able to communicate with an inmate through video chat or video visitation. So, by existing of JPay, everyone still can communicate with their incarcerated ones even though they are separated with distance and the limitations of the inmate. So, how to use the video chat of JPay?
Because physical visits are impossible or inconvenient sometimes, video chat from JPay allows you to talk face to face with your incarcerated ones from the comfort of your own home. The video chat from JPay offers you the chance to connect with your inmate in real time. To be able to use the service, you have to schedule a visitation and have it approved by your loved one's facility, a process that is made simple with a convenient calendar function on JPay.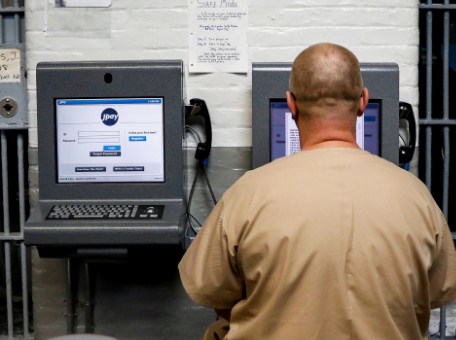 Before you use this service, it is important for you to know that different facilities offer different duration, rates and availability for video visits. So, make sure that you check the price and availability in the facility where your inmate resides to know whether this service is available or not in your inmate's facility. Every video visit will be held about 30 minutes. You also need to know the device that you need to be able to do video chat with your inmate. All you need for doing video chat with the inmate is a webcam and a computer with the appropriate capabilities. The system of JPay will take you step by step through the process of setting up a successful video visit. So, you are able to be there for your loved one, even when you are not.
Now, we are able to show you the steps of doing video chat with inmates using JPay video visitation.
First, you have to access the official website of JPay.
On the home page of JPay, you have to click on Video Visitation on the Navigation menu. And then, click on the Schedule New Visit.
On the page of Schedule Visit, you are able to click the Video Visitation Terms of Use link and read them. If you are done reading the terms of use, then you have to click on Continue.
In the box of Choose Date, you have to choose the day for your video visitation and then click on Continue.
After that, in the Choose Time list, you can choose the time for your video chat, and click Continue. Click Continue again.
Select your payment method by choosing a previously saved card from the Select card list or you are able to click Use A New Credit/ Debit Card to use a new card. Then, you will be prompted to add billing information for the new card.
In the Payment Verification box, you have to make sure whether the information is right and then click on Continue. Your video chat is added to your calendar and it can be viewed on the video visit page.
You are able to edit video visitation time or date by going to Video Visit page. Then, in Video Visit bow, click on Edit and then you will be brought to the process of scheduling a video chat. You can also delete a video chat in the Video Visits page. In the Video Visit box you want to delete, you have to click Delete and then there will be a pop up window and you have to click on Ok.