Money Order is one of sending money method in JPay. When you use this way to send money to inmates in jail, you will have to fill in and also print this form. So, where can we download this form and what will we fill in the form? We will explain about it briefly in this article.
You are able to download the Money Order form in the website of JPay. Then, after you find the file, you have to print it. In that money order deposit slip, you will have to fill in money order amount, inmate's DC, inmate's state, the full name of inmate, institution where he/ she resides, your email, your first name, your last name, your address, your city, your phone number, your state and also your Zip.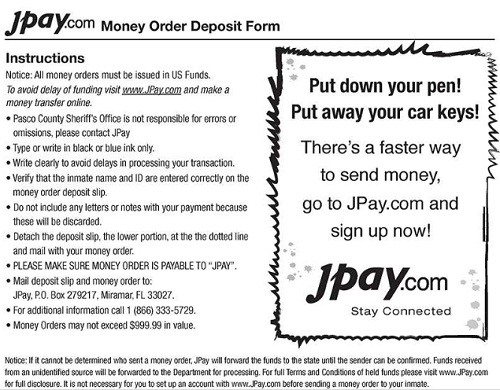 Then, how to send a money order? You can follow the instructions below.
First, you have to complete the Money Order Deposit Slip by typing or printing in blue or black ink.
Then, make the money order payable to JPay. You are able to include the inmate name and ID on the "memo" or "used for" line. It is recommended using US Postal Money Orders.
After that, you can place the money order and the deposit slip/ form in an envelope.
Now, you have to mail it to JPay, PO Box 277810, Miramar, FL 33027.
When you send this money order, you have to note several things. First, you have to type or write it in black or blue ink only. Second, you are able to write clearly to avoid delays in processing your transaction. Third, you have to verify that the name and ID of inmate are entered correctly on the money order deposit slip. Fourth, never include any letters or notes with your payment since these will be discarded. Fifth, you have to detach the deposit slip, the lower portion, at the dotted line and mail with your money order. If you need additional information, you are able to call at 1 (866) 333-5729. You also have to know that money orders may not exceed $999.99 in value. It is also important to know that money order will only be processed if the customer is on the approved sender list. A small fee of $1.95 will be deducted from each money order which is processed.
Besides via money order, you are also able to send money to inmate via other ways that are also provided by JPay. Those ways are online payments, through the phone, MoneyGram, and Lobby Kiosk. If you want to send money via online payments, you have to access the site of JPay. If you want to send money via phone, you are able to call at 1-800-574-5729. If you send money via MoneyGram, you will need inmate's correctional ID number, last name and also facility name or receive code. How about sending money via Lobby Kiosk? You are able to use a credit card at the lobby kiosk to send funds to an inmate. But, you have to make sure that the Lobby Kiosk is available in the facility where your inmate resides.