Do you have someone who is incarcerated? If so, you may want to connect with them as often as possible even though you know that he/ she has limitations in a lot of aspects. But, you do not have to be worried because now there are companies and programs that can help you in connect with them.
There is JPay which is a provider of connecting people with their incarcerated ones. Many services are offered by this company including transferring money, making a video visitation, sending email, buying phone time, buying a JPay Player, send videogram, and more. If you want to use the services of JPay, you need to register first in the website of JPay.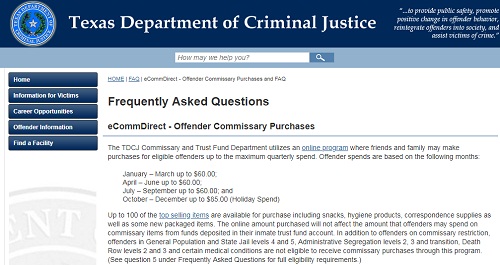 Now, how about Ecomm Direct Purchase Program? This is an easy way to buy commissary items and make deposits for offenders or incarcerated ones in Texas Department of Criminal Justice (TDCJ) facilities. If you want to use this program, you have to access www.texas.gov. Then, click on Services tab in the top left corner and then click link of Commissary Purchase & Deposit. So, how to use eCommDirect? It is very easy. To help you, we provide the steps to use eCommDirect.
 The first thing that you have to do is you have to search for an inmate by using their last name and offender ID. You have to know that you are not setting up an account with Texas.gov to make future purchase or deposits.
If the inmate has been verified, you may buy specific commissary items for the inmates from TDCJ's online catalog. It will be delivered to the inmate within 5 business days after TDCJ gets the order. Besides, you will also able to make a deposit into their Trust Fund account and it will be deposited into the account of inmate within two business days after TDCJ gets the order. When you use eCommDirect, you have to know that you are not required to make a purchase and a deposit at the same time.
It is important to know that eCommDirect Store is closed weeknights from 8:30 PM CST to 4:00 AM CST. The Trust Fund deposit of inmates may be made at any time with a limit of $300.00 per deposit transaction.
You are able to make purchases for eligible inmates up to maximum quarterly spend. The spends of inmates are based on the following months: January to March up to $60.00, April to June up to $60.00, July to September up to $60.00 and October to December up to $85.00. Inmates may get a maximum of one online purchase per day. The information that you will need when you want to deposit in the account of inmate is the ID and last name of the inmate and also credit card such as Visa, MasterCard or Discover. Well, if you need more information about Ecomm TDCJ, you are able to visit the website of Texas.gov. If you also want to know more about how to use this program, you are able to watch a video tutorial that was uploaded by TexasGov in Youtube.