One of the services which are offered by JPay is sending money. JPay provides several ways of sending money. So, you are able to send money to the inmates with one of those ways. Do we need code to use the facility of JPay? If you use the service of sending money, there will be code that you will use but it is just in certain way of sending money.
The ways of sending money in JPay consist of 5 ways. You are able to choose any ways that you want. Those ways are online payments, over the phone, Money Gram, money order and lobby kiosk.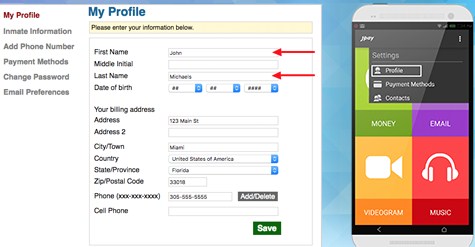 Here are the differences among those ways.
Online payments. You are able to send money to an inmate by using JPay.com.
Over the phone. You are able to send money to inmates via phone by calling 1-800-574-5729.
Money Gram. You are able to send money to inmates cash by using Money Gram. The services of Money Gram can be used at Walmart, 7-11, and CVS Pharmacy. If you use this way, you will need the correctional ID number of the inmates and his/ her last name and also the facility name or receive code.
Money Order. If you want to use this way to send money to the inmate, make sure that the coupon that you download corresponds to the state where you will send the money order. To use this service, you will need a cashier's check or money order and the JPay money order coupon for the state where you will send the money order.
Lobby Kiosk. You are able to use credit card at the lobby kiosk to send funds to an inmate.
As mentioned above that if you send money through Money Gram, you will need receive code. What is it? It is important to know that each MoneyGram agent is equipped with a list of JPay receive codes. Those codes is used to make sure the cash that you send will get where it is supposed to go. Here are the list of JPay receive codes. It is just some of the codes. To get more codes, you are able to check the website of JPay in the Money Gram section.
Agency

Receive Code
Agency

Receive Codes

1.       3M Electronic Monitoring FL

2.       Arizona DOC Inmate Deposits

3.       Arizona Community Supervision

4.       Butler County Adult Probation

5.       California CDCR Trust Payments

6.       California CDCR Temporary Community Leave

7.       Colorado DOC

8.       Connecticut DOC

9.       Dakota Women's Correctional and Rehabilitation Center

10.   Florida DOC

1246

1237

1241

1288

6141

1280

6556

1222

7277

5188

11.   Gadsden Correctional Facility

12.   Georgia DOC

13.   Georgia Probation

14.   Hamilton County Alternative Sentencing (Probation Supervision)

15.   Indiana DOC

16.   Kansas DOC

17.   Kentucky Adult Institutions

18.   Louisiana DOC

19.   Milwaukee House of Correction

20.   Missouri DOC

9744

6857

6901

1368

6142

6577

1232

8714

7279

2439
The partnership of JPay with Money Gram means that you are able to make a cash payment at more than 27,000 Money Gram agent locations in the United States at retail centers in your neighborhood.