There are many methods you can use to send money to an inmate. But if you want the transaction to be safe, JPay Money Orders is the best method. Sending money with this JPay's feature is very easy and you can rest assured that the inmate will receive the money. Here is the step by step guide to send money with JPay Money Orders.
How to Send Money with JPay Money Orders
Fill out the cashier's check or the money order with the right information.
Go to http://jpay.com/MoneyOrder.aspx to download the JPay Deposit Form. Make sure to choose the state of your inmate's prison correctly before downloading.
Fill out the JPay Deposit Slip correctly with clear handwriting. You must know the inmate number and the full name of the inmate to send money. Don't forget to write valid email and mailing address. Without those information, your money order will not be processed.
Put the cashier's check or money order and JPay Deposit Slip together in an envelope and mail it to the address written on the Deposit Form you downloaded earlier.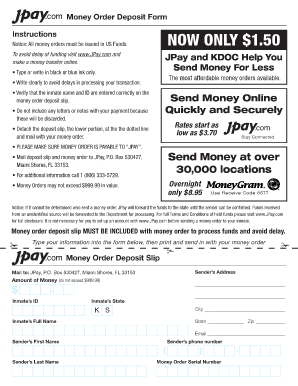 Important Notes
Sending money to inmates with JPay Money Orders is very easy and safe. However, there are some things you have to pay attention to make sure the money order can be processed.
The maximum amount that can be sent through JPay Money Orders is different in each state. For example, in Ohio the maximum amount is $200 while in Pennsylvania you can send up to $999.99. So, make sure you pay attention to the maximum amount written on the JPay Deposit Slip.
In some states, such as Ohio, you are required to be on the inmate's approved visiting list to send a money order.
If you follow the rules and fill out all the information correctly, your money order will definitely be sent to your inmate successfully.